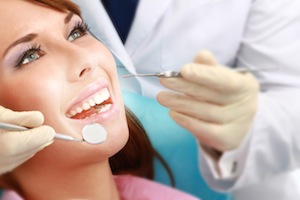 Another Reason To Visit The Dentist Twice A Year!
We encourage you to visit our office and have routine cleanings twice a year because they help keep your teeth and gums healthy, but also they can help detect oral cancer. The Academy of General Dentistry recommends that people get a dental exam from a general dentist every six months.
"The next time you visit your dentist, ask about an oral cancer screening," academy spokesperson Dr. Seung-Hee Rhee advised in an academy news release. "Your dentist will feel for lumps or irregular tissue changes in your neck, head, cheeks, and oral cavity and thoroughly examine the soft tissues in your mouth, specifically looking for any sores or discolored tissues. Although you may have already been receiving this screening from your dentist, it's a good idea to confirm that this screening is a part, and will remain a part, of your regular exam," Rhee said.
Each year in the United States, more than 30,000 new cases of oral cancer are diagnosed, and more than 8,000 people die of the disease, according to the Centers for Disease Control and Prevention. As with most diseases, oral cancer is best to be diagnosed and treated in its early stages because oral caner can be deadly. Crest explains that the possible warning signs of oral cancer are: bleeding sores; sores that do not heal; lumps or thick, hard spots; soreness or feeling that something is caught in the throat; difficulty chewing or swallowing; ear pain; difficulty moving the jaw or tongue; hoarseness; numbness of the tongue, and changes in the way teeth fit together. So call us at Artistic Touch Dentistry to schedule an appointment with Dr. Maryam Brazdo or Dr. Janice Wahl today!