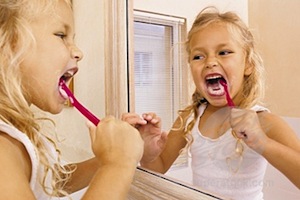 Are You Having Trouble Getting Your Child To Brush Their Teeth?
If you struggle with getting your child to brush their teeth twice a day for the recommended time then you may have come across the Beam Brush if you went searching for answers on the Internet, but we wanted share some insights on how to encourage your child to maintain good oral hygiene.
Beam Brush is the world's first Bluetooth-enabled toothbrush that allows you or your child to track where you are brushing your teeth and for how long. The Beam Brush website explains that, "the FDA cleared toothbrush transmits its use via Bluetooth and is connected to a smartphone app that tracks your kids' brushing strokes, the amount of time they spend brushing, and the quadrant of the mouth they're working on."
One reviewer over IEEE Spectrum said,  "At 57 grams, it weighs slightly less than a regular electric toothbrush, but its tiny, manually operated brush head sits on a bulky handle that has to contain an AA battery and all the electronics. Moreover, as the Beam Brush's lengthy instructions warn, the battery hatch in the back isn't watertight. So I ­had to hold it at an awkward angle to ensure that foam didn't ­accidentally dribble down the handle and leak in."
If you want to encourage good oral hygiene habits in your children without trying out this new Bluetooth-enabled toothbrush, then take a look at these suggestions from Parenting Squad:
Model the habits you want to see. You are your child's first teacher and role model. Let them see you brush and floss daily, or better yet, make brushing and flossing a family affair.
Don't underestimate the power of fun. Sometimes, all it takes is a toothbrush with a favorite character or one that lights up and plays music to encourage a child to brush. Singing special songs can also make the ritual a lot more fun, particularly if you're willing to make a total fool of yourself.
Choose the right toothpaste. Whether you're for or against fluoride, looking for the most natural product or just the cheapest, there's one thing you have to consider: taste. A child who enjoys the flavor of his or her toothpaste is more likely to enjoy brushing.
Buy the colored, hand-held flossers. The fun colors and easy to use shape will encourage them to floss everyday without you having to beg.
Create a rewards chart. Motivate your kids to brush their teeth with printable rewards charts where they can keep track of their daily brushing and earn rewards for consistently completing the task.
If you are looking for a dentist in Melbourne, Florida then give Artistic Touch Dentistry a call today to schedule an appointment with Dr. Maryam Brazdo.