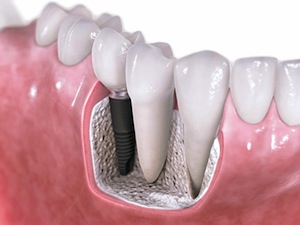 Dental Implants Look, Feel, and Function Like Natural Teeth
Many times people associate growing older with health problems but with advances in technology, Artistic Touch Dentistry wants you to know that advancing age doesn't mean loss of teeth. Not only do we offer dentures, But Artistic Touch Dentistry can also provide you with dental implants so you can eat and smile with confidence.
Dental implants are designed to provide a foundation for replacement teeth that look, feel and function like natural teeth. The person who has lost teeth regains the ability to eat virtually anything and can smile with confidence, knowing that teeth appear natural and that facial contours will be preserved.
The American Dental Association advises that "if you've lost any teeth, it's a good idea to replace them. A full set of teeth will help you chew delicious and nutritious foods like meats, beans, fruits, grains, and vegetables. Ill-fitting dentures can lead to diets of soft food that are low in nutrients and don't help your mouth stay clean."
Dental implants are changing the way people live! With them, people are rediscovering the comfort and confidence to eat, speak, laugh and enjoy life. Don't worry about what you can and cannot eat on a daily basis and contact our office to learn more about dental implants.