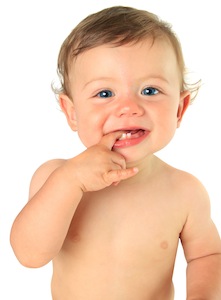 Don't Forget The First Tooth
We want to provide you with all the information you need to take care of your newborn's teeth and prepare them for a lifetime of good oral hygiene. Tooth decay is the single most common chronic childhood disease and millions of school hours are lost each year to dental-related issues, the Center for Disease Control and Prevention reported. So we want you to start early with your newborn so later on in life they don't experience any of these problems.
Kid's Health recommends that, "even before your child's first tooth appears you should regularly clean your baby's gums with a damp washcloth following feedings." By doing this you will help prevent the buildup of plaque bacteria that can later on lead to decay. Make sure you do not put your baby to bed with a bottle of formula or sugary drink, like juice. This will lead to baby bottle tooth decay, which is a disease that occurs in 15% of children and causes severe decay of baby teeth.
Your baby will usually begin teething around four months old. Make sure when their first tooth comes in to schedule an appointment with either Dr. Maryam Brazdo or Dr. Janice Wahl. You'll want to start brushing these new teeth gently, twice a day for about two minutes. You should use a toothbrush with extra-soft bristles until your child turns two or three. When your child's first tooth comes in, schedule an appointment at Artistic Touch Dentistry so your child can start practicing good oral hygiene habits right away!