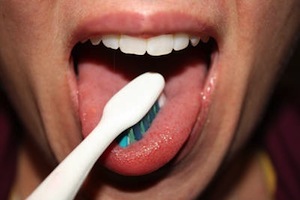 How Important Is It To Brush Your Tongue?
Artist Touch Dentistry wants you to practice the best oral hygiene habits possible to keep your gums and teeth healthy. While you may know that it's best to brush and floss twice a day, have you ever considered that you should also brush your tongue as well?
Kristie Leong M.D. is a Yahoo! Contributor explained that "you may not need to clean your tongue to protect your teeth or gums, it may be helpful if you're concerned about bad breath. Although the anterior tongue isn't generally a breeding ground for bacteria due to its self-cleaning ability, the posterior portion of the tongue, which experiences less self-cleaning action, may be a source for bacteria that can cause bad breath."
While brushing your tongue may not reduce your risk of developing cavities or gum disease, it is important to keep bad breath under control. So if you suffer from this problem, this is a quick remedy that you ought to try first to see if it solves your problem. If you need a dentist in Melbourne, Florida then please give Artistic Touch Dentistry a call today to schedule an appointment with Dr. Maryam Brazdo.