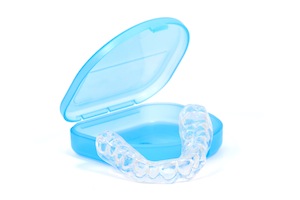 How To Care For Your Mouth Guard
Artistic Touch Dentistry wants you to know how to care for your mouth guard so you can take the best care of your mouth and oral health. A mouth guard can be used to prevent damage to your teeth and mouth during sports or physical activities. But it can also be used to prevent teeth grinding or jaw clenching during your sleep. While I have used a mouth guard for safety reasons during the days I played high school sports, nowadays I use my mouth guard at night when I clench my jaw during my sleep. Of course, it came with information about how to take care of it but I don't think I ever read them. But taking care of your mouth guard should be a top priority.
The American Dental Association suggests how to keep your mouthguard clean:
Thoroughly brush the mouth guard with a toothbrush and toothpaste. Or at least rinse it before and after every use.
Periodically wash the mouth guard in cool, soapy water and thoroughly rinse.
Store and carry your mouth guard in a protective container that has openings for ventilation.
Never put your mouth guard in hot water or in direct sunlight.
Regularly inspect your mouth guard for wear and tear, and replace it when necessary.
So if you need a mouth guard or have any questions about oral hygiene then give our dentists a call at Artistic Touch Dentistry to schedule an appointment today.