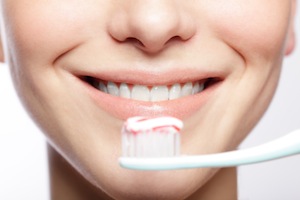 Maintain Healthy Oral Hygiene Habits To Prevent Other Medical Conditions
In order to maintain a healthy oral cavity, we recommends that you brush and floss your teeth twice a day as well as visit the dentist regularly for a cleaning. A professional teeth cleaning will health remove the plaque that has built up, which if left untreated can result in serious periodontal problems.
The American Dental Association explains that your mouth is the gateway to your body and it is important to maintain good oral health habits to keep the rest of your body healthy.
"Maintaining good oral health habits now is especially important because unhealthy bacteria in the mouth not only can harm your teeth and gums but may be associated with serious medical conditions. Research has shown that infections in the mouth may be associated with heart disease, stroke, diabetes, pneumonia and other health problems that are common in older adults. It really only takes a few simple steps, brushing and flossing daily, visiting your dentist regularly and eating nutritious foods to be Mouth Healthy for Life," the ADA shared.
If you are looking for a dentist then look no further than Artistic Touch Dentistry—feel free to call today and schedule an appointment!