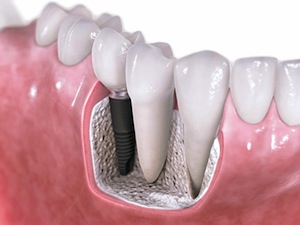 Missing teeth? Try dental implants!
The child singing "All I want for Christmas is my two front teeth!" is a classic, but when you're an adult and missing teeth, it's not quite so well-received. The appearance of a smile signifies one's commitment to healthy lifestyle and good self-care habits, so replacing missing teeth becomes important not only for oral function, but for social capital as well.
At Artistic Touch Dentistry, we offer dental implants designed to replace teeth permanently. If you've lost teeth due to accident, injury, or decay, you can regain the ability to eat virtually anything and can smile with confidence, knowing that teeth appear natural and that your facial contours will be preserved.
The implants are tiny titanium posts which are placed into the jawbone where teeth are missing. The bone bonds with the titanium, allowing the implanted teeth to remain in place for a lifetime. If you feel implant dentistry may be the choice for you, we will begin with a dental/radiographic examination and health history. Dr. Maryam Brazdo will consult on your options or refer you to an Oral and Maxillofacial Surgeon we trust. Call us today to learn how YOU can restore your teeth as a gift to yourself this holiday season!