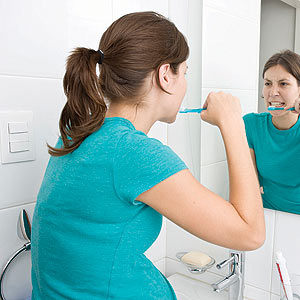 Should You Be Concerned About Pregnancy Tumors?
Should You Be Concerned About Pregnancy Tumors?Despite the name that pregnancy tumors carry, we want you to know that this isn't something to be overly concerned about. Pregnancy can be a difficult time if you don't know what to expect or what is going on with your body. The American Dental Association explains that pregnancy tumors are overgrowths of tissues that appear in the gums, usually during the second trimester.
"These non-cancerous growths or swellings are usually found between the teeth and are believed to be related to excess plaque. They bleed easily and have a red, raw-looking raspberry-like appearance. They usually disappear after your baby is born, but if you are concerned, talk to your dentist about removing them," the ADA advises.
Our philosophy is to serve our patients with compassion and integrity. We understand that all
our patients are individuals, each of whom has his or her own personal needs and concerns. So if you ever have any concerns regarding your oral health don't hesitate to schedule an appointment. When you need a dentist then give Artistic Touch Dentistry a call today.