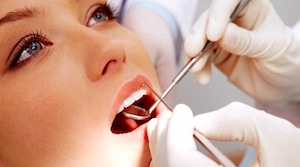 Teeth Cleaning Removes Plaque and Helps Your Smile Shine
When you need a teeth cleaning, or dental prophylaxis, then call our office to schedule an appointment to remove the plaque from your teeth and brighten your smile. Prophylaxis is an important dental treatment for stopping the progression of gingivitis and periodontal disease.
A professional dental cleaning helps keep your oral cavity in proper health and will stop the progression of gum disease. Not only will this remove the plaque, or tarter, from your teeth, it can also rid your teeth of unsightly stains. If you feel like your teeth need a good cleaning, then our staff at Artistic Touch Dentistry is here to help. With the plaque removed and stains washed away, your breath will be fresher as well. Bad breath is usually a sign of periodontal disease. A combination of rotting food particles (possibly below the gum line) and potential gangrene stemming from gum infection, results in bad breath.
The routine removal of plaque, calculus and bacteria at our facility can noticeably improve halitosis and reduce infection.  We recommends that you have a dental prophylaxis completed twice a year for optimal oral health benefits.