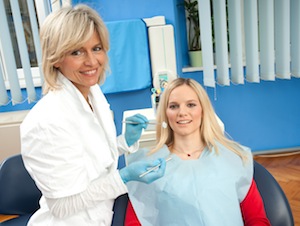 Visit Our Office When You Need A Dental Crown In Melbourne, Florida
There are many reasons in which you may find yourself needing a dental crown, but at Artistic Touch Dentistry we make sure to provide undetectable crowns for your teeth. We will make a final crown for your tooth so it will look as natural as your other teeth. Call our office if you think you are in need of a dental crown.
WebMD explains that a dental crown may be needed in the following situations:
To protect a weak tooth from breaking or to hold together parts of a cracked tooth
To restore an already broken tooth or a tooth that has been severely worn down
To cover and support a tooth with a large filling when there isn't a lot of tooth left
To hold a dental bridge in place
To cover misshapen or severely discolored teeth
To cover a dental implant
Fitting a crown will require at least two visits with our staff. First, we will remove decay, shape the tooth, and fit it with a temporary crown of either plastic or metal. On the following visit, we will remove the temporary crown, and then fit and adjust the final crown. Finally, we will cement the crown into place and you have a new beautiful looking tooth. This process is neither difficult nor painful and it will leave you with a completely natural and functional tooth.
However, when you leave our office with your temporary crown while waiting for your new one to be finished you should make certain to be careful with it. WebMD suggests, "avoiding sticky, chewy foods that have the potential of pulling off the crow is a must. Also, you should try to minimize the use of the side of the mouth with the temporary crown." This will help keep your crown in place. Finally, by slide flossing material out rather than lifting it out when cleaning your teeth will be beneficial because flossing normally might pull off the temporary crown.
When you find yourself needing a dental crown call our office so we can schedule you an appointment right away.