Watch for New ADA Anti-Smoking Campaign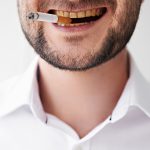 The American Dental Association will begin airing national television ads February 11 designed to raise awareness about the aesthetic effects of smoking. The Real Cost campaign will be targeted at teenagers most at-risk for developing a nicotine addiction.
Smoking has devastating health affects throughout the body, but the ad campaign will focus on the issues most likely to resonate with teenagers: their looks! Smoking leads to tooth loss, gum disease, halitosis (bad breath), and stained, yellowed teeth. Teenagers and their developing self-image can be damaged by the impact of smoking on dental health.
One ad will invite teenagers with a beautiful smile to "see what your smile could look like if you smoke." The comparisons will be striking and will discourage teens from risking their beautiful, youthful smiles for the sake of the cigarette.
Dr. Maryam Brazdo and the team at Artistic Touch Dentistry welcome the opportunity to discuss the impact of smoking on dental health.