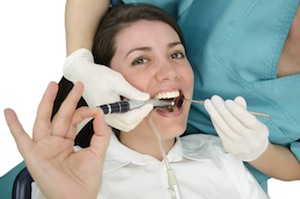 Who's Most Afraid of The Dentist?
We know that children are often afraid of the dentist, but shockingly women in their 40s are more afraid of the dentist than children. The Huffington Post shared this ongoing research from the University of Sydney that suggests this demographic is more likely than other age groups to be depressed, anxious or stressed, researchers found.
This article suggested a few reasons this demographic is more afraid of the dentist than most:
They often have a fear of the unknown
They fear the dental equipment
They have a sensitive gag reflex
The dentist seems ominous
They have a fear of loud noises
They feel uncomfortable lying in the dental chair
While these are some common fears, Dr. Maryam Brazdo and Dr. Janice Wahl do their absolute best to calm any anxiety you may have about going to the dentist. There are several coping practices that you can utilize if you are nervous about going to the dentist, such as counting to yourself or playing mental games so that you can distract yourself. Our staff will calm your nerves and make sure that your fear of the dentist is squelched. Give our staff at Artistic Touch Dentistry a call today to schedule an appointment!