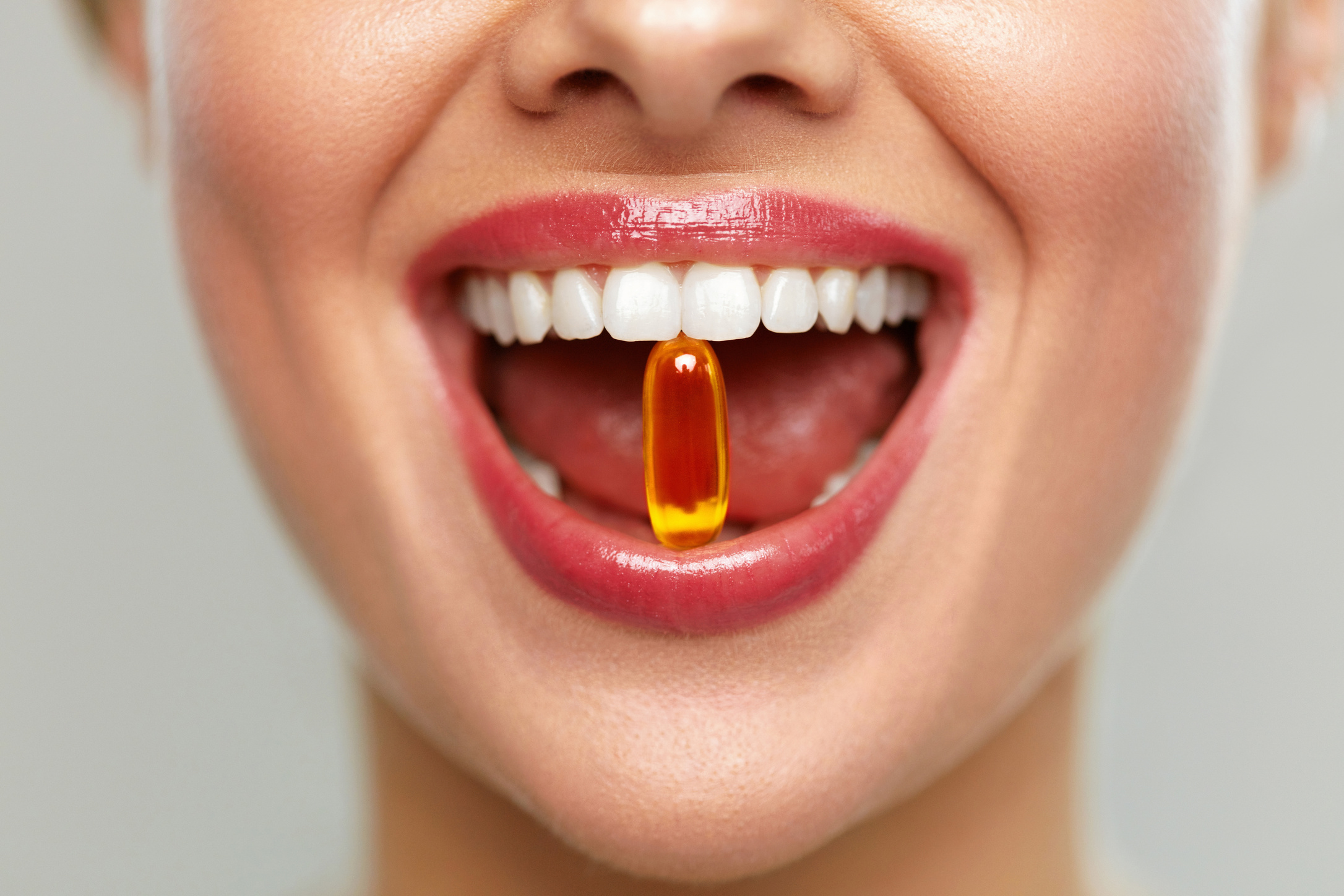 8 Supplements For The Perfect Smile  
1. Calcium
Calcium is essential for healthy teeth. For babies and children, calcium helps with the formation of the teeth and helps maintain baby teeth. For adults, eating lots of calcium helps maintain healthy teeth. In order to increase your intake of calcium, you can take a calcium supplement, or you can eat more yogurt, milk, dark green leafy vegetables, and calcium-fortified cereals.
2. CoQ10
CoQ10 is vital for maintaining all the soft tissues in your body, including your gums. We recommend taking at least 60mg of CoQ10 per day to help improve the health of your gums. If you have gingivitis or periodontal disease, this supplement may even help reduce any pockets that have formed between the teeth and gum tissue after you've had your periodontal cleaning. CoQ10 can be purchased at pharmacies and big-box retailers as a supplement.
3. Iron
Iron is essential for making and maintaining red blood cell counts, but it also helps increase the effectiveness of your immune system. Your immune system is essential for helping maintain the health of your gums by helping to control the bacteria levels in the mouth that could cause oral infections and gum disease. Good sources of iron include red meats, eggs, and all types of fish and shellfish as well as dark leafy vegetables, like kale and spinach.
4. Phosphorus
Phosphorus is just as important for your teeth as calcium. In fact, this mineral works alongside calcium to help ensure you have strong teeth that can withstand the forces of chewing. Great ways to increase your phosphorus intake include eating more eggs, nuts, beans, and whole grains. It can also be purchased as a supplement at pharmacies, vitamin shops, and big-box retailers that have vitamin and supplement walls.
5. Vitamin A
You've probably heard that vitamin A is good for the health of your eyes, but did you know that it's also great for helping maintain the health of your gums and teeth. This is because Vitamin A is used in the maintenance of your teeth as it helps to ensure the health of all your mucus membranes. You can increase your vitamin A intake by eating more sweet potatoes, dark green vegetables, carrots, and eggs.
6. Vitamin C
Vitamin C helps strengthen your immune system, but did you also know that it is essential for blood vessel formation and for maintaining your gum tissue? In fact, having a Vitamin C deficiency can lead to bleeding gums and contribute to the formation of gingivitis. Eating more citrus fruits, berries and spinach can help you maintain your vitamin C levels.
7. Vitamin D
Vitamin D helps prevent cavities in your teeth by keeping your enamel strong. Vitamin D can be purchased by itself in supplements or with supplements that also contain calcium. You can also get your daily dose of vitamin D by spending 15 minutes outside in the sun and by increasing your intake of whole milk, cheese, avocados, bananas, and dark green leafy vegetables.
8. Fluoride
Fluoride can help give you that perfect smile if you incorporate it at a young age. It helps keep your teeth strong and reduces your risk of developing cavities. For this reason, it can be found in certain mouthwashes, kinds of toothpaste, and even in the water supply. Foods that contain fluoride include fish and black tea.
Getting The Perfect Smile At Artistic Touch
To schedule your next teeth cleaning with our Melbourne, Florida dentist and to learn more about achieving a perfect smile with our additional services, like teeth whitening, dental restorations, and dental implants, contact us online or call us at 321-724-1400.