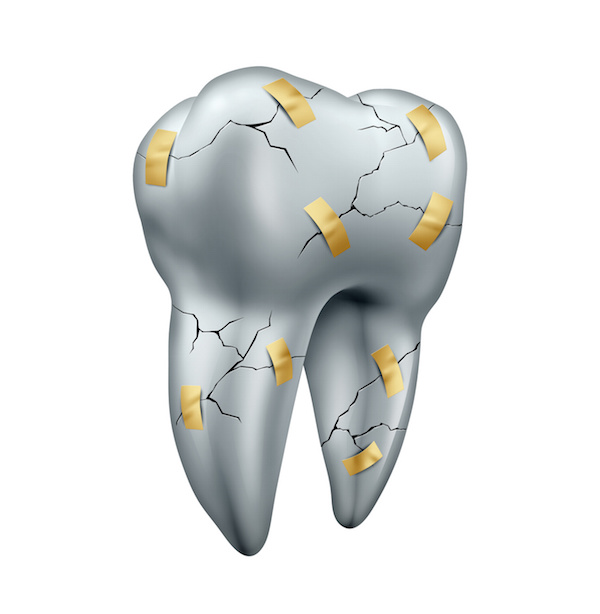 Clinical practice guidelines for caring for restorations
As the United States population ages and we increasingly address the issues of tooth loss, repair, and replacement with better technologies, it's obvious that patients would need a standard of care for their long-term follow up. These restorations, dental implants, and permanent fixed dentures are, after all, often sold as "lifetime" solutions to tooth loss or injury.
And as of this month, University of Connecticut School of Dental Medicine's Dr. Avinash Bidra has the published the first national clinical practice guidelines for caring for patients with teeth restorations such as crowns, bridges, veneers and implants. While these procedures certainly aren't new, the first set of standardized follow up care practices are. And patients may be surprised how much the new guidelines treat restored and replaced teeth with the same care and procedures as natural teeth.
Even for dental implants–false teeth anchored to the jaw bone–patients are expected to undergo "routine dental examinations at least every 6 months and continuous education about the best individual at-home maintenance regimen." That sounds remarkably like our practices for caring for natural teeth.
These exams, though, can be used not only to clean items like dental implants, but to also adjust, repair and/or replace restorations supported by teeth or implants. It's all considered part of a "lifelong need for dental maintenance." In other words, we'll always see you in 6 months because you're never done with dental care.
Even dental implants, then, require some of the same care as natural teeth. They are, of course, made to appear as if they're natural and to blend in with neighboring teeth. The underlying structures must be preserved in order to maintain the foundation for the false teeth. To maintain  teeth restorations or implant restorations, Dr. Bidra's guidelines recommend:
Obtain a dental examination and cleaning at least every 6 months.
Follow your dentist's tailored at-home maintenance recommendations.
Brush your teeth with a fluoride containing toothpaste at least twice a day.
Floss your teeth at least once a day.
Use a mouthwash recommended by your dentist.
Wear a night guard regularly if recommended by your dentist to protect your restorations.
Watch your diet closely and avoid a high-sugar diet.
If you didn't catch those guidelines, they are precisely the same as general oral care guidelines with the mention of a few specifics doctors may wish to adjust as needed. Overall, we take a few lessons from the development of these guidelines:
You are never, ever done with dental care. As long as you have teeth–even false teeth–that are part of your jaw, gum, and soft tissue structure, you'll need dental care.
Your mom was right. Brush twice daily, floss, and visit your dentist every 6 months. Technology and tools may change, but the age-old advice has not.
The great news for everyone is that maintaining implants, crowns, veneers, and natural teeth remains simple in that the care for each is the same. This  means that despite the condition of your smile or the progression of your tooth replacement, we'll see you back in 6 months to monitor your progress and provide any support you'll need!
Source:
University of Connecticut. (2016, January 6). First clinical practice guidelines call for lifelong maintenance of restored teeth: First American clinical practice guidelines for caring for patients with crowns, bridges, veneers and implants. ScienceDaily. Retrieved January 6, 2016 from www.sciencedaily.com/releases/2016/01/160106102533.htm