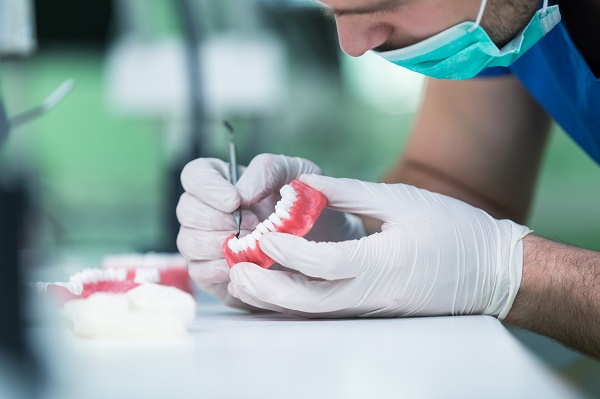 Considering Dentures? Read This.
As our body ages, so too do our teeth. A goal of many is to keep as many natural teeth as possible with impeccable oral care. However life often throws us curve balls and no matter how well we flossed or how well we know our dentist, sometimes we loose teeth. Loss of teeth can happen in any number of ways, and as many ways as there are to loose teeth there there are an equal amount of ways you can replace them with dental restorations. Often people look to dentures to fill the void left by missing teeth. If you are considering this traditional method, there are many things you should know.
What are Dentures?
Dentures are dental restorations designed to replace all or many teeth. A complete set of dentures replaces the entire top and bottom rows of teeth whereas a partial denture will replace a specific amount of teeth that have been lost. Dentures today are made out of many materials, such as composite resin, acrylic, porcelain, and ceramic. They can be removable or fixed to the gums with dental implants or to abutment teeth depending on how you and your Melbourne, Florida dentist choose to treat your condition. Dentures are a wonderfully versatile way to replace teeth and can be as an invasive of a procedure as you wish.
How Do Dentures Work?
Depending on the type of dentures you and Dr. Brazdo decide are best for your particular condition, dentures can work in few ways. It is important to note that every type of denture will enable you to eat and speak as you did before you experienced tooth loss. They are all made with durable and trusted materials that mimic that of natural teeth yet cannot decay. If a full set of dentures is right for you, a mold of your gums as they are will be taken. Dr. Brazdo will then create you a set of both bottom and top teeth that will be sent to a lab and created for you. You will be able to take these out to clean in a specialized solution while you sleep, and replace them to eat, speak, and smile in the morning. If a partial denture is a better option, she will make replicas of the teeth you have lost so that they fit exactly in the correct spaces as to not impair your oral function. Partial dentures will be affixed to the strong and healthy teeth that are adjacent to the gap created by lost teeth. These are not removable and require a special care that will be detailed for you by your Melbourne, Florida dentist at the time of treatment.
Are Dentures Right For Me?
Deciding if dentures are right for you can be difficult with the many different oral restorations available. If you are suffering from advanced tooth loss dentures may be an economical solution rather than choosing many dental implants. However because of the elevated care required to keep dentures safe and your underlying gums and bone tissues healthy, a commitment to your oral care is necessary. While dentures are widely used and a practical decision for many people those who experience severe and rapid bone loss may be dissuaded from dentures. When we lose teeth we begin to rapidly lose bone from the jaw. This can happen millimeters at a time and can severely affect the aesthetics and function of the mouth. Dentures are designed to slow this deterioration of bone loss in the jaw by stimulating the jaw bone, however it can never replace a tooth and the periodontal ligament that supported the bone prior to its loss. With traditional dentures you will likely experience a shifting of your dentures and they must be refitted to stay tight and function properly with your changing jawbone. However, denture technology has come a long way from George Washington's fabled wooden set. Dental implants can be utilized to keep full and partial dentures in place eliminating the need for denture adhesives that make dentures an unpopular choice in the decision making process. This option can also eliminate or slow the bone loss that follows tooth loss by closely replicating the periodontal ligament and keeping the bone in place.
If you are considering dentures, talk with your Melbourne, Florida dentist. She will be able to evaluate your condition and discuss with you whether or not this option is right for you. If so she will be able to help you understand how your life will change and what you will need to do to keep your remaining teeth and gums healthy during this transition.