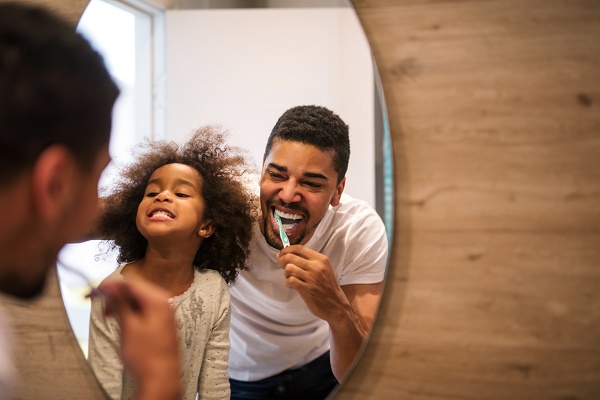 Improving Oral Health Through Example
You've heard the expression, "Be someone's reason to smile" but did you ever know that this colloquialism can be taken literally as well as metaphorically? Well, as it turns out you can help influence the oral health of the people around you by the way you act and encourage them. This news is particularly wonderful for the future of your oral health and that of your children and family members. New research out of Boston University's School of Dental Medicine found that you may have as much of an impact on your family's oral health as your Melbourne, Florida dentist.
The Research
Dr. Brenda Heaton presented her research at the American Association for the Advancement of Science conference earlier this month. Her initial goal was to learn why some populations experienced severe disparities in their oral health, specifically Boston public housing. She wanted to see if "motivational interviewing" can influence how people take care of their teeth. Motivational interviewing is mostly conducted by your dentist during an appointment. This is when your dentist will remind you how to best care for your teeth to reach optimal oral health, however they can take place anywhere someone discusses the health of your teeth. They found that motivational interviewing had a positive impact and motivated people to take better care of their teeth, however these effects only lasted a short time. What they found determined long term outcomes and overall improved oral care was the participation of a patient's family and friendships. Heaton found that families who brush together have healthier teeth and a better grasp on their oral health, which stands to prove that you can literally be someone's reason to smile every day!
Start With Yourself
If you are motivated by these findings to foster an atmosphere of impeccable oral health, it's easiest to start with yourself. By learning how to best care for your teeth, you can share your experiences and routines with your family and friends. Start by making an appointment to have your teeth cleaned and checked out by your Melbourne, Florida general dentist. Dr. Brazdo can clean your teeth and provide you with the "motivational interview" you need to update your oral health routine. Once you've mastered your routine you will be able to share the valuable information with your friends and family.
Teach Your Family Proper Oral Health
The next step in improving oral health in your household is to take your knowledge of oral maintenance to your family. If you have children, brush and floss with them every day. Show them how to do it properly because these habits will help keep their teeth healthy for a lifetime. Take the time to make sure they brush for the whole two minutes every morning and evening. Show them how to floss and have fun doing it. Making oral care a family activity can help instill in your children and spouse that these routines are fun and beneficial. Even when schedules become busy, taking the two minutes to steal away from the chaos of life to practice great oral hygiene can be just the right amount of calm and focus you and your family needs to start the day right and end it on a positive note.
Talk To Your Friends about Oral Health
While making sure to instill positive attitudes with your family can be a relatively easy step in the right direction, but you don't necessarily ever bring up the topic of oral care with your friends – let alone brush with them everyday. However, talking about oral care with your friends can help keep you motivated to update and stay diligent in your oral care routine. It can even rub off on  your friends and fortify your circle of conscious oral care. Here are some quick ideas to spur and foster oral care conversations within your groups of friends. Talk about your oral health routine, learn if your friends floss, what kinds of toothpaste and toothbrushes they use. Discuss cosmetic procedures you wish to have like teeth whitening or Invisalign. These topics can move the conversation to the importance of taking care of your teeth. If you find a new toothpaste bring it up, see if your friends would like to try it. Normalizing conversations about oral care can let you and your friends feel confident in your abilities to care for your teeth and ensure the health of your mouth.
Welcome Encouragement
You will be amazed at how quickly your family and friends embrace taking care of their teeth once you get the conversation started. And, this is a story your Melbourne, Florida dentist will love to hear. Improving your oral health is important at any stage in your life, if you have questions about how you can take better care of your teeth and how you can foster a family lifestyle of impeccable oral health, schedule an appointment with Dr. Brazdo today.