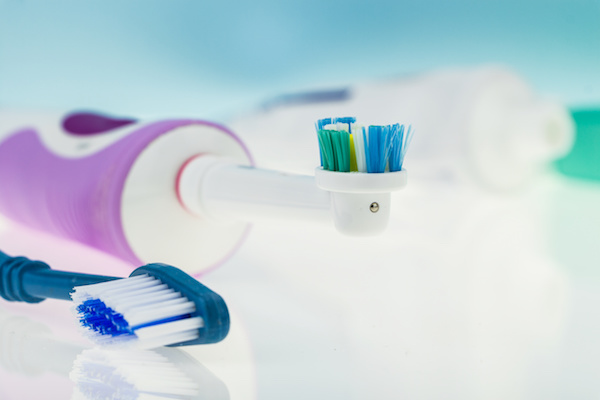 Is an Electric Toothbrush Better for Your Teeth?
Many people ask the question of "electric or manual toothbrush: which should I use?" The answer can actually be different for every person and situation. In most cases, an electric toothbrush can allow for a more thorough cleaning. However, if you're very careful about oral hygiene habits, a manual toothbrush can do a great job, too. Here's what you need to know about choosing electric toothbrushes for you or for your child.
Why Do Power Toothbrushes Tend to Work Better?
The main reason that electric toothbrushes tend to work better is that they simply put some extra power into the brushing process. An electric toothbrush can greatly reduce the amount of plaque in your mouth because it is constantly oscillating. The toothbrush heads spin right then left, and then back to the right to give a complete cleaning. No matter how diligent you are about brushing, you probably can't quite duplicate the precision and power of an electric toothbrush. This extra power doesn't mean pain, either: at most, you might feel a mild tickle while brushing your teeth with an electric toothbrush. It's actually possible to get better results with applying less pressure when you're using an electric toothbrush. This means a reduced chance of gum bleeding and irritation.
Electric toothbrushes are better able to ferret out the tiny and well-hidden pieces of food that even very careful manual brushing may miss. It takes no extra time or effort on your part to use an electric toothbrush instead of a manual one, but the results are often much more impressive with an electric toothbrush.
Overall, this means that electric toothbrushes tend to be the better choice for most patients. Even your young child can learn to brush with an electric toothbrush. Many kids even find it fun to use an electric toothbrush, and this means that they're far more likely to adhere to a regular dental care routine. If you raise your child using this type of brush, they're unlikely to have any desire to use a manual toothbrush later. Using an electric toothbrush for life can really give your child a great jump start on oral health.
Which Type of Electric Toothbrush Works Best?
Most types of electric toothbrush work quite well when compared to manual brushing, although the oscillating models are among the most advanced ones available today. The brand of the toothbrush doesn't necessarily matter, as long as you choose a quality product. One of the most important things to remember about electric toothbrushes is that regular head replacement is crucial, no matter which brand you choose.
In general, you should put a new head on your electric toothbrush around every 3-4 months. However, keep a close watch on the amount of fraying on the toothbrush head. As soon as you notice fraying, replace the head even if it hasn't been nearly 3-4 months yet. Even if your toothbrush head isn't frayed after 3 or 4 months, it's best to go ahead and switch it out for a new one. This ensures that any hiding bacteria isn't re-introduced into your mouth.
When the toothbrush head is frayed, you're not getting even close to the full benefit of the electric toothbrush power. This is one area where trying to save money by using the toothbrush head for a bit longer can really backfire. There's no reason to leave yourself susceptible to tooth decay when a simple toothbrush head replacement could help you maintain good oral health.
Ready to Talk to an Experienced Local Dentist in Melbourne about Your Oral Health?
The Artistic Touch Dentistry team is here to provide our Melbourne, Florida area patients with comprehensive dentistry services ranging from general and preventative dentistry to cosmetic and advanced restorative services. We are happy to advise you on choosing an electric or manual toothbrush, and we are always glad to customize care just for your needs. We welcome patients of all ages and look forward to helping you and your family maintain the best oral health.
Contact us anytime to arrange a dental appointment!