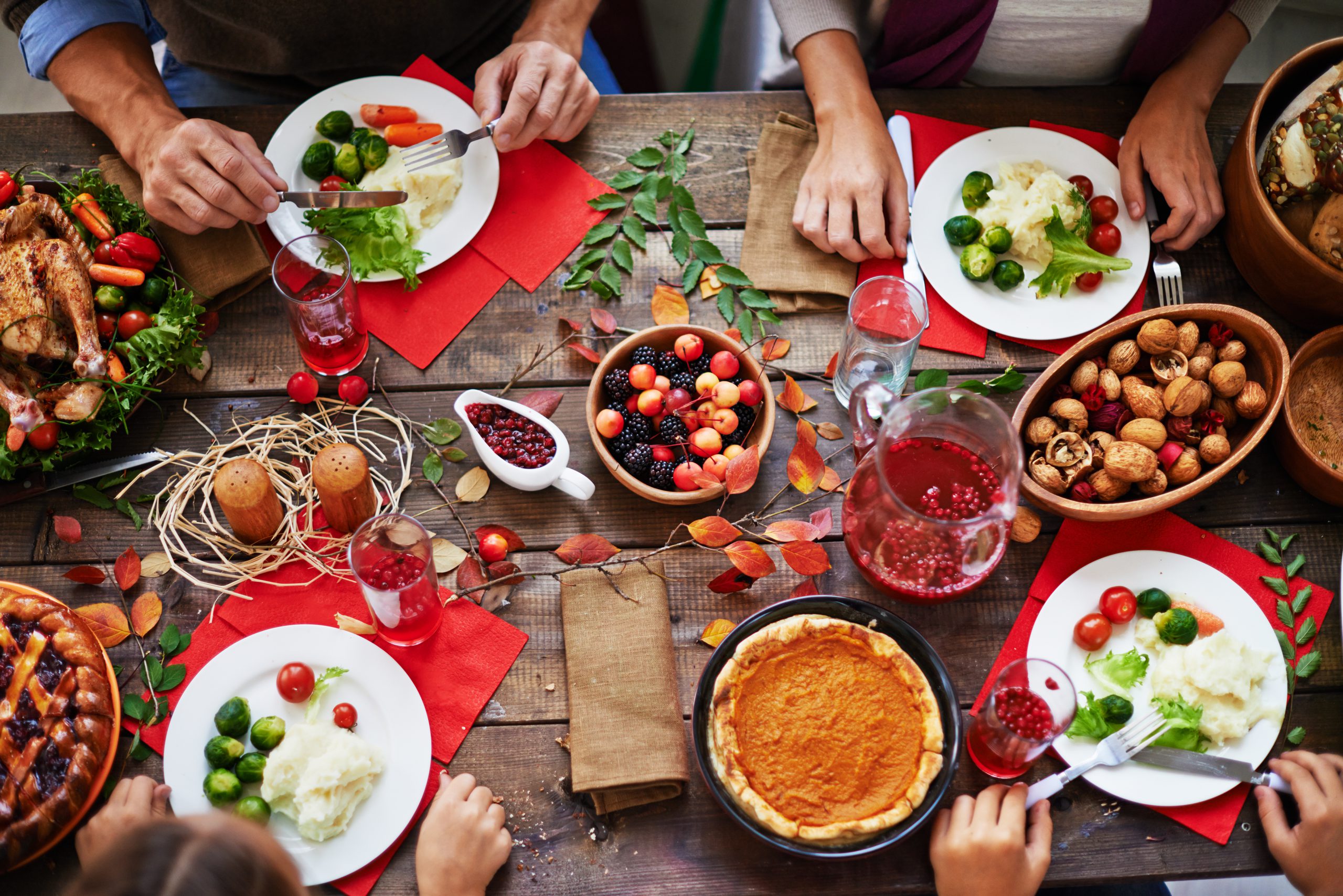 Thanksgiving and Oral Health
Thanksgiving is nearly here, and your family will no doubt celebrate with a huge spread of delicious foods. The foods you choose to eat can have either a positive or negative effect on your oral health. Of course, while Thanksgiving is known for its many tasty dishes, many of those dishes may not be so healthy for your pearly whites. On the other hand, you can add a few foods to your celebration that actually benefit your teeth. Learn more about foods to indulge in, those to limit or skip, and a few helpful oral health tips that will keep the day healthy for your family's smile.
Thanksgiving Favorites that Benefit Oral Health
It's always important to try to choose foods that will benefit your oral health – even on Thanksgiving Day. Here's a look at a few Thanksgiving foods you can whip up to benefit your family's oral health.
Cheeses – Everyone likes snacking on the hors d'oeuvres before the big meal, and cheese is a perfect addition to these pre-meal snacks. Cheese offers great benefits for teeth. It's packed with casein and calcium. Casein works to fight cavities and make the surface of teeth strong, and calcium also helps strengthen teeth. You can also add cheese as a topper to some of your favorite Thanksgiving dishes.

Raw Veggies – Please pass the veggies! Those crunchy, raw veggies offer great vitamins you need and they also help your mouth produce more saliva, which helps wash away oral bacteria.

Sweet Potatoes – Those delicious sweet potatoes do more than taste good with turkey. They are packed with vitamin C, which helps with the healing of gum tissues.

Cranberries – While you'll want to skip the high sugar canned cranberry sauce, if you whip up your own cranberry dishes, it can be great for teeth. The polyphenols found in cranberries can help prevent plaque buildup.

Sesame Oil – Try adding a bit of sesame oil to green beans or other veggies. It helps fight gingivitis and plaque.
Thanksgiving Favorites to Limit or Skip
While some foods promote oral health, there are a few dishes on the Thanksgiving table it's best to limit or skip to keep your teeth in great shape.
Pumpkin Pie – While pumpkin itself has great health benefits, when it's loaded with sugar in a pie, it can be hard on your teeth. If you can't go without your Thanksgiving Day pie, go for a small piece and rinse your mouth well with water after eating.  

Sweet Potato Casserole – Sweet potatoes are great for your oral health, but not if they are packed with sugar and marshmallows. Those marshmallows are sticky and stay on teeth, which can cause damage.

Mashed Potatoes – The mashed potatoes look delicious, and what's turkey without just a bit of mashed potatoes on your plate? If you must, go with a small amount of this dish. They turn sticky and stay on teeth, and if you don't brush quickly, they can damage teeth.  
A Few More Oral Health Tips for Thanksgiving Day
Along with choosing foods that are good for your oral health, there are other tips you can follow to make sure Thanksgiving Day doesn't sabotage your oral health.
Tip #1 – Don't Aimlessly Eat All Day – Constantly exposing teeth to snacks throughout the day can keep bathing them in sugars and sticky substances. On Thanksgiving, it's easy to snack on foods all day, even before your big meal. It's better for teeth to stick to just eating at meal time.
Tip #2 – Limit Drinks That Stain Teeth – Drinks like red wine can stain your teeth. If you're going to have a glass, eat some cheese with it, since cheese can help protect tooth enamel from the red wine. Coffee is another drink that may stain teeth, so consider another type of warm drink instead.
Tip #3 – Drink Water – Drinking water, particularly if it's tap water that contains fluoride, can help prevent enamel damage on Thanksgiving Day. You can also use the water to swish out your mouth after you eat foods that can be damaging to teeth.
Tip #4 – Be Sure to Brush – Thanksgiving Day can be very busy, especially if you're traveling on the big day. Make sure you don't forget to brush and floss. If you're spending Thanksgiving somewhere else, pack a toothbrush to have with you so you can brush following your big meal.