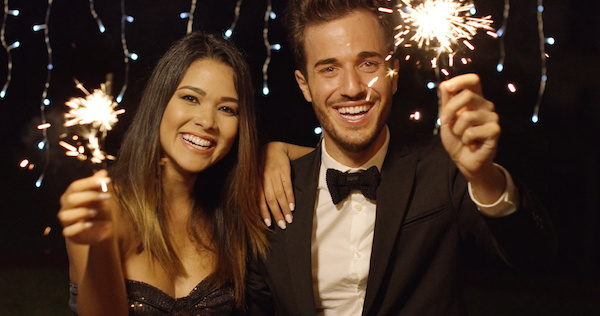 Start the New Year Off with a Whiter Smile
While we all want to have a bright, whiter smile, after all the indulging that comes with the holiday season, you may find that your smile is looking a little dull by the end of the year. While you can try to take some precautions to avoid some of the things that stain teeth, teeth tend to yellow a bit with time no matter what you do. Instead of hiding your teeth when you smile, give your confidence a boost for your New Year's celebration by seeing your dentist for a safe, effective whitening treatment and end up with a whiter smile.
Holiday Foods and Drinks That May Stain Your Teeth
Many different foods and drinks can stain your teeth, especially as you grow older and your tooth enamel develops little crevices and cracks. Some of the holiday favorites that may leave your teeth stained at the end of the year include:
Coffee

– Coffee abounds when the weather grows colder. You may be grabbing some to go as you complete your holiday shopping or maybe you indulged at all the parties you attended this year. Unfortunately, the tannins in coffee can discolor and stain teeth.

Red Wine

– Red wine is a staple at many holiday gatherings, and while it's great for your overall health in moderation, it's not the greatest for a white smile. Not only does it have tannins, but it's also acidic and high in chromogens, which stick to teeth quickly causing stains. Even white wine, while it doesn't have its own color, still is quite acidic.

Food Dyes

– Any brightly colored drinks and candies, something you see a lot of around the holidays, probably contain food dyes. Food dyes are an aggressive type of coloring, and you've probably noticed they can turn your tongue a different color. Unfortunately, they can color your teeth too, leaving you wanting to hide your smile.

Dark Berries

– Dark berries and fruits are very richly pigmented, which means they can stain your teeth. That means grandma's famous blackberry or blueberry pie could result in stains. Pumpkin, chocolate, or apple pies make a better choice for your teeth. Cranberry sauce and other cranberry-based foods can also stain teeth.
The Dangers of OTC Whitening Solutions
If you notice your holiday celebrations have left behind stained, discolored teeth, you're probably thinking about whitening your teeth so you can be more comfortable with flashing your whiter smile. Don't be tempted to head to the grocery store or pharmacy for an over-the-counter (OTC) whitening treatment that promises you'll have a brilliant smile in just days. Many people make the mistake of grabbing an OTC whitening kit without ever consulting with their dentist. Unfortunately, those OTC whitening solutions come with a few dangers.
1 – Overusing the Product

– One of the common dangers of using OTC whitening solutions is the potential to overuse the product. Since these products aren't professional grade, many people want to see better results, so they use it longer than the recommended treatment time. Overusing these products leaves you with a greater risk of damaged tooth enamel, tooth sensitivity, tooth decay, and many other problems.

2 – Chemical Burns

– Since OTC products aren't customized to fit your mouth, the powerful bleach used could end up on your soft oral tissues. This may result in painful burns to your gums or other soft oral tissues.

3 – Tooth Sensitivity

– Many individuals who whiten their teeth end up dealing with tooth sensitivity, particularly if the treatment is overused. Instead of using an OTC treatment, partnering with your dentist to get a dentist-approved solution can help you reduce the risk of developing tooth sensitivity after whitening treatment.
See Your Dentist for a Brighter Whiter Smile for the New Year
Although the holiday season is supposed to be a time of gratitude and happiness, the only lasting effects of the holidays you want is memories – not discolored, stained teeth. Your dentist can help you enjoy the brighter whiter smile you want for the New Year. With custom bleach splints designed to fit your oral anatomy, you'll be able to enjoy excellent results without the dangers that come with OTC products. Contact your Melbourne, Florida dentist today to learn more about the safe, effective teeth whitening options available to help you take on the New Year with a bright, beautiful whiter smile.