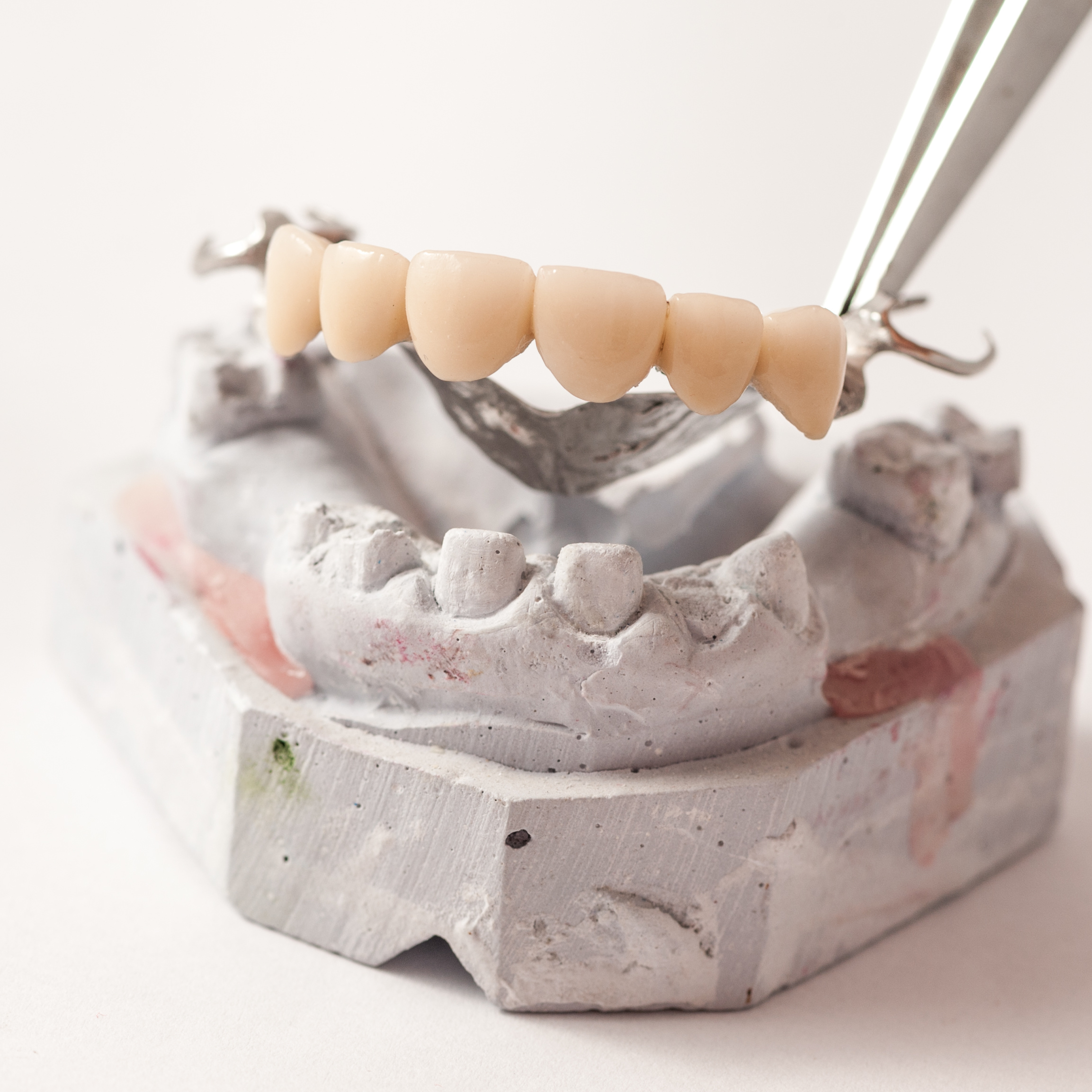 Bridging the Gap: Understanding Dental Bridges
Dental bridges earned their name by actually bridging gaps within the mouth. A dental bridge may replace just one tooth or a whole group of teeth. The ultimate goal of a dental bridge is smile restoration, giving you a more beautiful smile and more functional teeth at the same time. If you're missing one or more teeth, Artistic Touch Dentistry is here to help. Dr. Brazdo can create customized dental bridges that can bridge the gaps in your smile.
What Are the Components of Dental Bridges?
The components of a dental bridge can include:
The Dental Crowns

: A dental bridge typically includes two crowns (possibly more) for the natural teeth on either side of the gap in your mouth. The natural teeth that act as anchors for the replacement teeth are known as abutment teeth.

Metal Framework

: Some dental bridges include a metal framework for support, rather than using crowns on abutment teeth for support.

The Pontic

: A pontic is used as a tooth replacement. Pontics are prosthetic crowns that look like the tooth they're replacing.

Dental Implants

: Dental implants are also used as replacement teeth, but they're a more complex restoration than a pontic because they're anchored into the jaw through metal supports.
Which Type of Dental Bridge is Right For You?
There are several types of dental bridges, with the most common being the traditional bridge. In a traditional dental bridge, the dental crowns are adhered to the abutment teeth with dental cement, and the prosthetic tooth is a pontic. A small amount of enamel must be taken on the abutment teeth to allow room for the crowns to be even with the teeth around it.
Another option is the cantilever bridge. They're much like traditional dental bridges, but there's an abutment only on one side. Cantilever bridges offer less security and stability, but there may be situations in which they work well.
Maryland bridges include a metal frame for support rather than crowns on abutment teeth. The frame is bonded to the backs of the teeth on either side of the gap. This offers the advantage of avoiding crowns and the enamel loss that goes along with that. However, a Maryland bridge offers less longevity than other types of implants.
An implant supported bridge uses permanent dental implants for support. The replacement tooth can be a pontic in between two dental implants, but it's more common for all missing teeth to be replaced with dental implants.
Most dental bridges will require at least two different visits to the Artistic Touch Dentistry offices. In most cases, these visits are spaced at least a month apart, but each case does vary. Dr. Brazdo will evaluate your needs on an individual basis so that she can provide the most customized dental bridge recommendation and treatment plan.
Caring For Dental Bridges
Caring for your dental bridge is much the same as caring for your natural teeth. To maintain your dental bridge for its maximum lifespan, take the following steps.
Brush twice a day (two minutes at a time) and floss every night. Use particular care when flossing around your dental bridge, and avoid any hard tugging movements.

Schedule regular dental cleanings, and have exams with Dr. Brazdo on the recommended schedule — usually around twice a year.

Avoid chewing foods that are extremely hard, for example hard candies. Never eat ice, and never chew on non-food objects like pencils or straws.
Ready to Bridge the Gap to a Bright Smile?
The team at Artistic Touch Dentistry in Melbourne, Florida believes in taking a comprehensive approach to dentistry. Both adults and children can receive dentistry care of all types at Artistic Touch Dentistry from Dr. Maryam Brazdo. From general dentistry like routine cleanings and exams to preventative care to advanced dental restorations, you can count on Dr. Brazdo and the Artistic Touch Dentistry team for the personalized care you need. Contact the Artistic Touch Dentistry office anytime to arrange an appointment — we look forward to serving you as your Melbourne dental care provider.