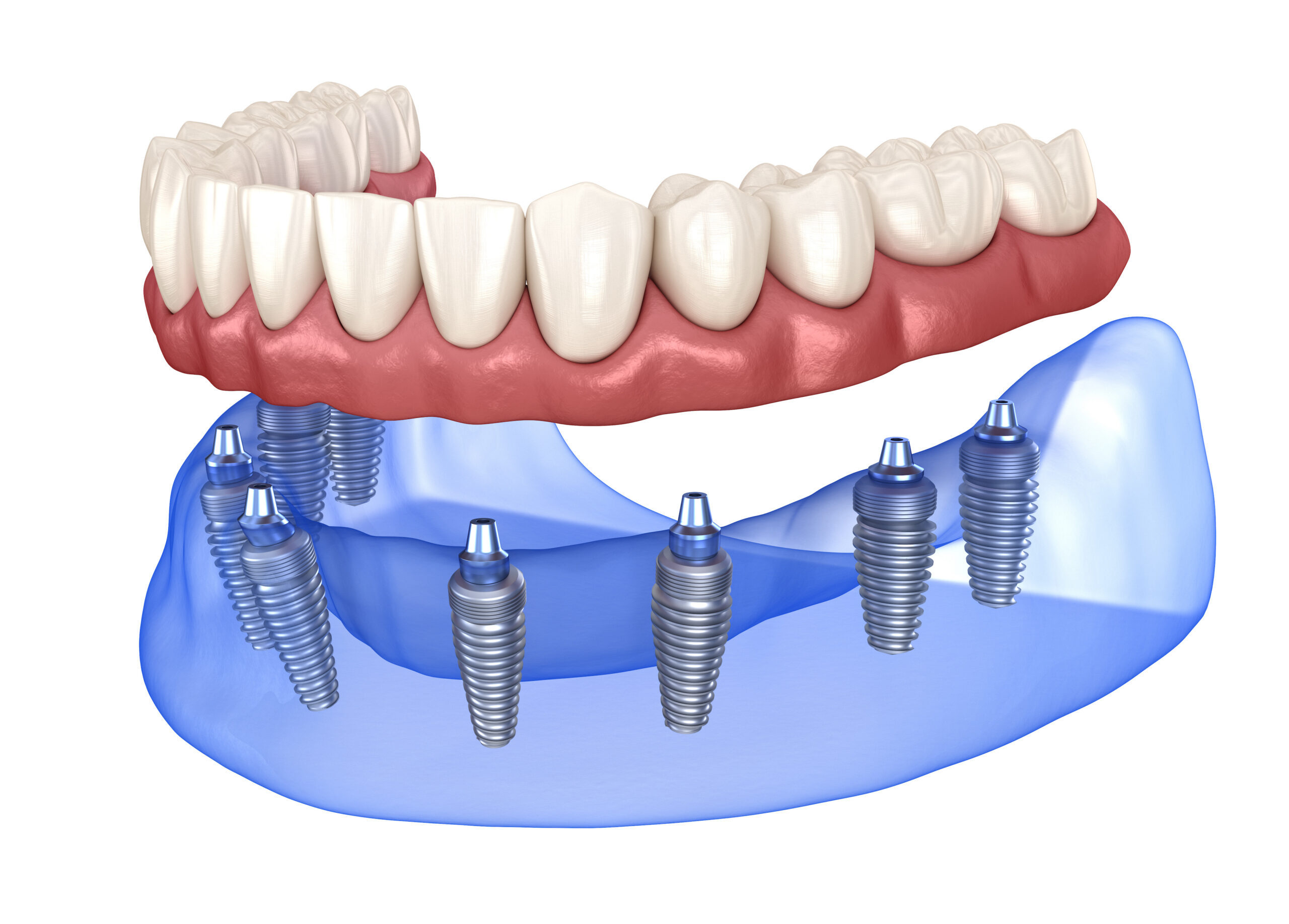 How Can Dental Implants Help You Stay Healthy?

Dental implants are an advanced tooth replacement option that looks, feels, and functions like natural teeth. These artificial tooth roots are used to support the restoration of a missing tooth or teeth. Implants are also useful for preventing jaw bone loss that can develop when a patient does not replace a missing tooth. While the process of getting dental implants may seem intimidating, most patients experience little discomfort and love the look of their new smile.
Learn more about dental implants, the advantages of implants, their success rate, and how the procedure is performed.
What are Dental Implants?
Dental implants are a type of metal fixture used to restore missing teeth. They are surgically fastened to your jawbone below the gums, followed by the placement of artificial teeth. As the mouth heals, they become anchored to the bone through a process known as osseointegration in which the bone fuses to the metal. Due to the stability of this process, patients can rely on their dental implants to comfortably eat and speak.
There are two main types of dental implants: endosteal and subperiosteal. Your dentist can help you decide which implant is best for you based on the size, shape, and overall health of your jawbone.
Endosteal implants are titanium screws or blades that are inserted into the jawbone and require four to six weeks to osseointegrate before the abutment can be placed. Subperiosteal implants sit on top of the jawbone, under the gum tissue. Over time, they fasten to the jawbone through osseointegration. This type of procedure is recommended for patients who have less bone in their jaw or when the health of the jaw may not support this type of surgery.
Advantages of Dental Implants
Getting dental implants to replace one or more missing teeth can have several key advantages, including:
Improved comfort. Can eliminate the discomfort of removable dentures.
Improved speech. Poor-fitting dentures can slip around in the mouth, causing you to slur or mumble your words. With dental implants, you can speak confidently.
Improved appearance. Made to look and feel like natural teeth as they are sturdy and permanent.
Easier eating. Many patients experience easier eating with dental implants and can enjoy all of their favorite foods again without discomfort.
Greater convenience. Removable dentures can be inconvenient as they must be removed and cleaned. Patients also have to deal with messy adhesives.
Improved oral health. Dental implants allow patients to leave their remaining teeth intact which can improve oral health. Implants can also be brushed and flossed like normal teeth.
Success Rate of Dental Implants
The success rate of dental implants can vary based on the condition of the patient's jaw and where they are placed. However, dental implants have an average success rate of up to 98 percent. When properly cared for, they can even last a lifetime.
What Happens During the Dental Implant Procedure?
The dental implant procedure involves a series of steps, starting with an initial evaluation to determine the condition of the jawbone. This initial evaluation may involve X-rays, impressions, and matching the color of your natural teeth to the implant. Next, if you have any remaining teeth that need to be removed, your dentist will do this before starting. In some cases, extractions can be done at the same time as the implant insertion.
The dentist will then insert the implant. If the jawbone is not strong enough to support the implant, you may need some bone grafting to provide extra support to the implant. You will then need to let the bone heal before moving forward with the procedure. After the implant is placed, the jawbone will grow around and fuse to the implant. Once the implant is stable enough, the dentist will place an abutment on the implant, followed by a permanent crown.
Contact Artist Touch Dentistry About Dental Implants Support
Interested in learning more about dental implants or are you ready to make an appointment with our family dentist for your oral health?
Contact the friendly team at Artistic Touch Dentistry today at 1.321.724.1400.